Weekly Bible Study
Our Small Groups are an immediate family in the midst of the wider
church family. It's a place for everyone in the family to belong.
The
on-going Bible study of a Small Group provides an atmosphere where
those just exploring the faith and those living it out,
can participate in the church family and find consistent growth through a
weekly encounter with God in His Word.
Small Groups are available for
every age and life stage, making it easy to connect to a group of caring
people with similar needs and interests for ongoing Bible study, mutual
support, service and fellowship.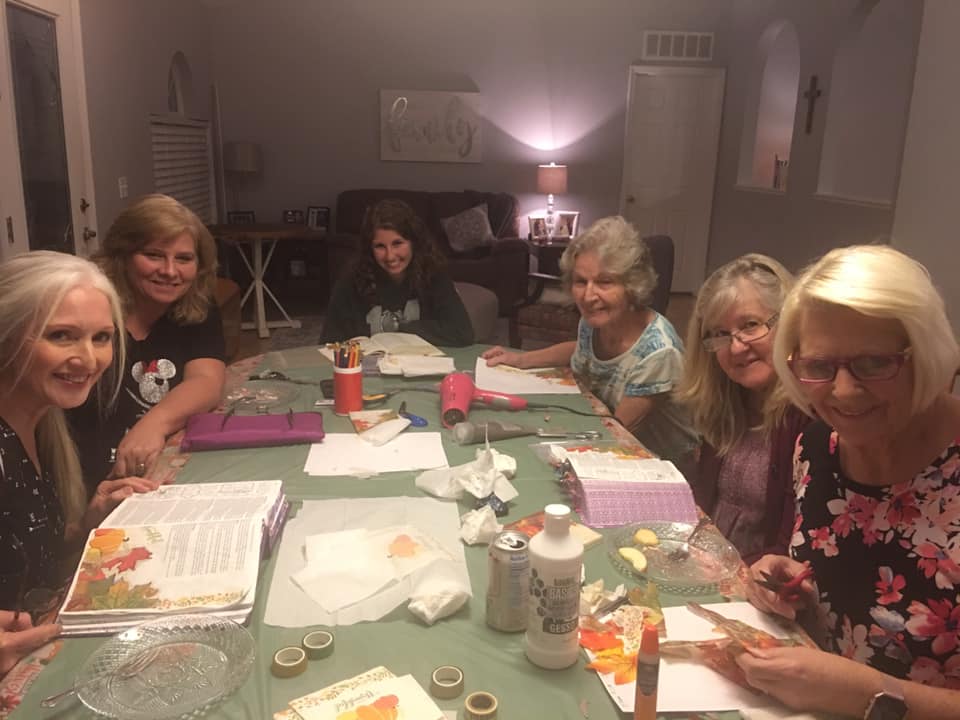 Mondays
6:00 p.m. Men's Bible Study -Stay tuned for new study
9:30 a.m. Ladies Bi-Weekly Bible Study
6:45 p.m. Men's Small Group
9:30 a.m. Precept Bible Study (Bi-Weekly)
6:00 p.m. Mid-Week Bible Study for all ages
Thursdays
6:30 p.m. Precept Bible Study (Bi-Weekly)

Fridays
9:30 a.m. Ladies Bible Study
See the Calendar for details on all studies.
Looking for Sunday School Class Listings? Click Here
SPRING 2023 BIBLE STUDY & SMALL GROUP REGISTRATION
Knowing God by Name – A Personal Encounter
"Knowing God by Name – A Personal Encounter" is a new 8 week Ladies Bible Study beginning Friday. Mary 5th, in Room 118.
Led by Sandra White, this scripturally rich study reveals fascinating insights about 35 names of God, including Hebrew meanings, historical significance and practical applications for today. As we focus on God the Father's Hebrew names revealed in the Old Testament we will find their fulfillment in the New Testament because the clear message of Scripture is that one cannot know the Father apart from His Son and apart from the work of the Spirit of God.
Limited Seating, so register today. Study Guide – $18
POINT MAN: Revised and Updated
Join a new Men's Bible study on Mondays, March 20 – April 24 at 6PM in the mtg Room.
Point Man, Revised and Updated: How a Man Can Lead His Family – The bestselling guide for Christian men who want to lead their families well is now revised and updated to help fathers and husbands navigate the complexities of today's challenges.

"Jam-packed with biblical direction and leadership strategies, this battle guide will equip you to lead your family to victory."—Dr. Tony Evans, president of the Urban Alternative and senior pastor of Oak Cliff Bible Fellowship.
Study Book – $12 each.
AMOS (Ladies Bible Study)
Amos is often called a prophet of doom! Through his pronouncements of judgment, we can see what happens when we don't live the God life. Yet, within each bleak condemnation, is a tacit invitation to seek God so we can live the good life. Amos is promoting the God life, and the God life is the good life!
Through this study, you'll be invited to live assured, faithful, chosen, humble, justly, prayerful, and hopeful. Ultimately, you'll be invited to "seek God and live" (Amos 5:4).
Join other ladies for this bi-weekly Bible Study Tuesdays at 9:30AM, in the Meeting Room. Books available to purchase $23.00 during registration, and picked up in the church office.
PRECEPT – 2 Samuel & 1 Chronicles
Watch a "man after God's own heart" ascend to the throne, then descend into sin. See how a covenant-keeping God turns a man from the worst sins to a victorious finish.
Register to join leader, Linda Buckles, on this journey through 2 Samuel, The Life of David – A Man After God's Own Heart.
Class Options:
Bi-weekly Wednesdays, beginning January 25, 9:30AM, or Bi-Weekly Thursdays.