Weekly Bible Study
Our Small Groups are an immediate family in the midst of the wider
church family. It's a place for everyone in the family to belong.
The
on-going Bible study of a Small Group provides an atmosphere where
those just exploring the faith and those living it out,
can participate in the church family and find consistent growth through a
weekly encounter with God in His Word.
Small Groups are available for
every age and life stage, making it easy to connect to a group of caring
people with similar needs and interests for ongoing Bible study, mutual
support, service and fellowship.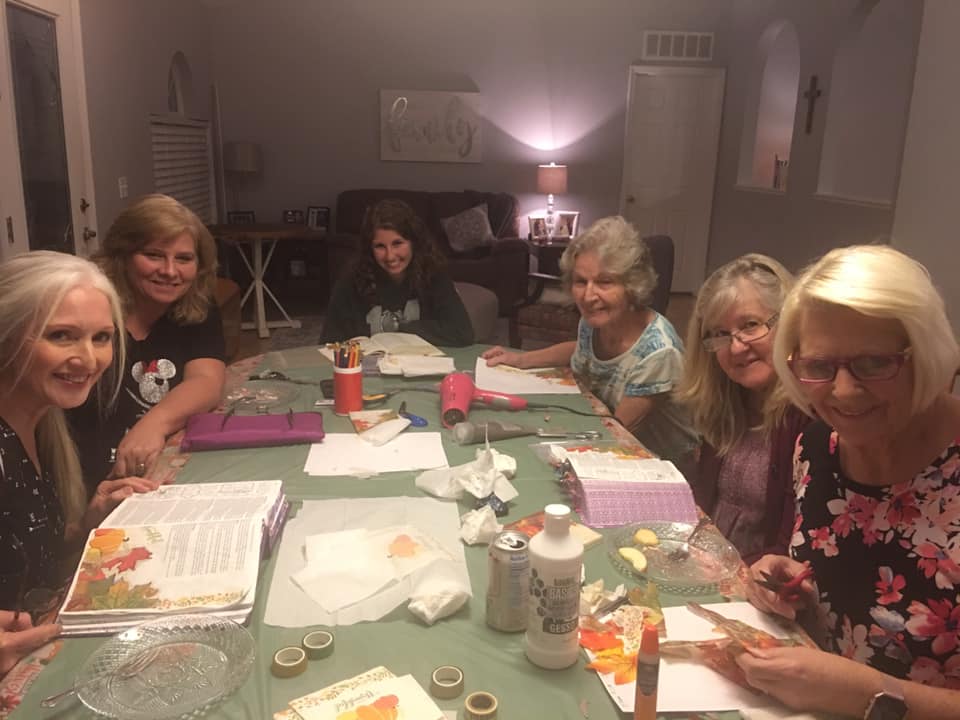 Mondays
6:00 p.m. Bible Study with Ginette Foli September 18
9:30 a.m. Ladies Bi-Weekly Bible Study
6:00 p.m. New Believers, begins October 3
6:00 p.m. Griefshare Small Group
6:45 p.m. Men's Small Group
9:30 a.m. Precept Bi-Weekly Bible Study
6:00 p.m. Mid-Week Bible Study for all ages
Thursdays
6:30 p.m. Precept Bi-Weekly Bible Study

Fridays
9:30 a.m. Ladies Bible Study
See the Calendar for details on all studies.
Looking for Sunday School Class Listings? Click Here
FALL 2023 BIBLE STUDY & SMALL GROUP REGISTRATION
Are you prepared for suffering? Will trials and persecutions reveal your faith and bring glory to God? Listen to what Peter says to believers enduring tribulations.
Register to join leader, Linda Buckles, on this journey through 1 Peter, and discover the message Peter shared that captured the hearts of hundreds of generations. A message of living hope to men and women of all nations, tongues, and ages.
Class Options: Bi-weekly Wednesdays, beginning September 13, 9:30AM, or Bi-Weekly Thursdays, beginning September 14, 6:30PM.
Free study guide included in registration.
Ladies Bible Study: When You Pray
Do you have trouble thinking of words to say to God when you pray? Are you afraid some emotions are too intense to express to God? Do you reach the end of a day only to realize you haven't prayed at all? You're not alone. Prayer is the way we relate to God, but sometimes it's a struggle. Throughout God's Word, we encounter many voices who teach us how to pray.

In this study, join with six beloved Bible teachers who will help you study prayers in the Bible that can inspire your own. You'll learn that God welcomes your praise and lament, your thanksgiving and intercession. You'll see examples of how to pray when you're alone and when you're gathered with others. Above all, you'll notice there's no one right way to pray. As you draw near to God through prayer, you'll find your faith strengthened and your heart united to Christ.
This study, led by Linda Buckles, will meet every other Tuesday, 9:30AM, beginning September 12. Workbook Cost is $26.
Ladies Bible Study: Seeing the Invisible God
Our God wants us to know Him. He sent His Son to us as "the Word," the ultimate revelation of God to human beings. With the availability of John's gospel, we don't have much excuse for not knowing Him, for John records how God's Son, in His walk on earth as the man Jesus Christ, explained and demonstrated to us the invisible God.
In this unique 10-lesson study of some of Christ's "I am" statements, we "see" the One He came to reveal and are challenged to live in light of that knowledge.
Register to join Sandra White in getting to know Jesus through His many revealing "I am" statements. This study will meet Fridays, 10:00AM in room 133. Workbook cost is $9.
New Believer's Class: I Am a Christian
What does it really mean to be a Christian? When people finally grasp who they are in Christ and what their participation means to their local church, everything changes. Life begins to make sense. Respected pastor, author and church consultant, Thom Rainer explains how the local church is God's primary plan for reaching the world with his love.
The urgent need of our day is for Christians to understand who they are, what they believe, and how that affects what they do. And the best place to answer those crucial life questions is in the context of the local church. It's nothing short of amazing and miraculous what God will do through a group of devoted Christians who become committed and selfless church members.
Join Pastor Kevin on Tuesdays, beginning October 3, 6PM, in the Student Center. The study guide can be purchased online with registration (1 per person/couple) and picked up in the Church office for $15.00.
The Big Picture
Have you considered The Big Picture? Do you have questions such as "What is my purpose?" "Where does my destination lead?" "What does God require of me for salvation?"
Join Mrs. Ginette Foli as she seeks to help you find answers in God's Word to these important questions and more in her 10 week journey from Creation, through the cross, and beyond to the establishment of the
God's Millennial Kingdom.
Monday nights at 6PM beginning September 18, in the Meeting Room. Workbooks are included in registration.