Weekly Bible Study
Our Small Groups are an immediate family in the midst of the wider
church family. It's a place for everyone in the family to belong.
The
on-going Bible study of a Small Group provides an atmosphere where
those just exploring the faith and those living it out,
can participate in the church family and find consistent growth through a
weekly encounter with God in His Word.
Small Groups are available for
every age and life stage, making it easy to connect to a group of caring
people with similar needs and interests for ongoing Bible study, mutual
support, service and fellowship.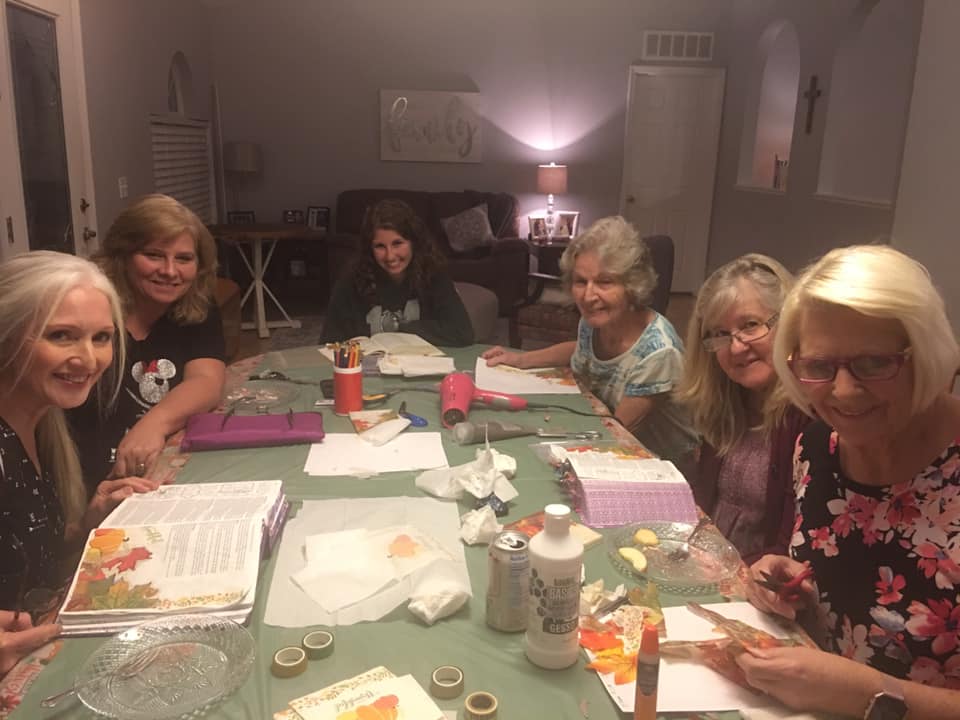 Sundays
4:00 p.m. Thy Kingdom Come – Part 2 (Revelation)
Mondays
6:00 p.m. Complement Marriage Workshop
9:30 a.m. Ladies Bi-Weekly Bible Study
6:45 p.m. Men's Small Group
9:30 a.m. Precept Bible Study (Bi-Weekly)
6:00 p.m. Mid-Week Bible Study for all ages
Thursdays
6:00 p.m. Got Questions? Bible Study
6:30 p.m. Precept Bible Study (Bi-Weekly)
Fridays
9:30 a.m. Ladies Bible Study
See the Calendar for details on all studies.
Looking for Sunday School Class Listings? Click Here
WINTER 2023 BIBLE STUDY & SMALL GROUP REGISTRATION
Does your marriage feel stuck in a rut? Do you feel like you and your spouse are never on the same team? Do you want a flourishing and vibrant marriage that reflects the gospel?
Over 7 sessions, Complement shines a compelling light on the beauty of marriage as God intends it. Through biblical teaching, storytelling, and real-life examples, Jamie and Aaron Ivey dismantle the distorted cultural views of submission, servanthood, and leadership within a marriage and offer a better view of healthy, godly marriage. In this study, participants will walk through the purpose of marriage as the Scripture relates it and tackle topics such as family mission, sex, leadership, fighting, and forgiveness. Because marriage is meant to not only give life and hope to both husband and wife, but also point the world to Christ.
Join Pastor Kevin & Ann for the 7-week married couple's Bible Study class which begins Monday, January 9, 6PM. Registration has begun on our website, FBCPC.org. Study book (per couple) is $18.
Join us for PART TWO of a Bible study that will take a very in-depth look at these 3 books of God's Word, Ezekiel, Daniel & Revelation, along with the history of Israel and prophecy still yet to come at the return of Christ to eternity.
Led by Emily Hunt, this Bible study will be taught in 3 parts with this second part beginning Sunday, January 8: Thy Kingdom Come-Part Two (The Book of Revelation) – 8 Weeks.
You can register online. Study worksheets – $6 per student.
AMOS (Ladies Bible Study)
Amos is often called a prophet of doom! Through his pronouncements of judgment, we can see what happens when we don't live the God life. Yet, within each bleak condemnation, is a tacit invitation to seek God so we can live the good life. Amos is promoting the God life, and the God life is the good life!
Through this study, you'll be invited to live assured, faithful, chosen, humble, justly, prayerful, and hopeful. Ultimately, you'll be invited to "seek God and live" (Amos 5:4).
Join other ladies for this bi-weekly Bible Study Tuesdays at 9:30AM, in the Meeting Room, beginning February 7. Books available to purchase $23.00 during registration, and picked up in the church office.
PRECEPT – 2 Samuel & 1 Chronicles
Watch a "man after God's own heart" ascend to the throne, then descend into sin. See how a covenant-keeping God turns a man from the worst sins to a victorious finish.
Register to join leader, Linda Buckles, on this journey through 2 Samuel, The Life of David – A Man After God's Own Heart.
Class Options:
Bi-weekly Wednesdays, beginning January 25, 9:30AM, or Bi-Weekly Thursdays, beginning January 26, 6:30PM